Here at Samantha Wynne Bridal,
we ensure every client is delighted with the end result of their alterations.
We alter new wedding dresses, preloved bridal dresses, sale or sample dresses.
There is no task too big or small when it comes to fulfilling the vision that a
bride has for her dream gown.

Samantha Wynne Bridal Alterations Timeframe: The duration of bridal alterations
for your wedding gown depends on the complexity of the tailoring required. On
average, this process takes approximately 6 to 8 weeks and involves 2 fitting
sessions. Duration 30 minutes.

Bookings for November/December weddings are now open. If you are travelling
from Geraldton, Margaret River, Gascoyne, Goldfields, Great Southern,
Kimberley, Peel, Pilbara &/or South West please let us know in advance so
we can schedule around you to avoid multiple trips & flights.

Flexible Scheduling: Our scheduling is adaptable to different timelines.
Whether you're in need of a next day service, or if you have a more relaxed
schedule, we strive to cater to your needs based on our availability.
Most common requests are raising
the hem, changing the dress size, adding a bustle and reducing the hipline, we
can do all of this for you. We have years of experience of working on beautiful
laces, luxury fabrics and materials that overall are not easy to alter. Trust
us with your beautiful dress.
Wedding Dress Alterations
During your appointment your dress will be pinned as your request and a collection and retry appointment will be scheduled for the following week. Common wedding dress alterations include: hem shortening, straps, variations, taking in or letting out.
School Ball Alterations
Our highly skilled alterations team take special care to make sure your school ball dress fits perfectly. Our most common school ball alterations usually include but are not limited to: hem shortening, straps, reduce through waistline.
Clothing Alterations
The services we offer include but are not limited to:
Jeans:
Hem shortened, button replacement, zip replacement, reduction through waistline.
Trousers:
Hem shortened, button replacement, zip replacement, reduction through waistline.
Dresses:
Hem shortened, taking in dress side seams, shortening straps, zip replacement, sleeve shortening, resizing - taking in or letting out.
Shirts:
Hem shortened, taking in shirt side seams, shirt sleeves shortened, sew button on shirt.
Feel free to contact us about any alterations not listed above.
Book An Alterations Appointment Online
We recommend your very last fitting typically 6-8 weeks before the wedding, school ball or event. Rush alterations fittings can be accommodated depending on Samantha's Team's schedule.
Bridal alteration costs range from $500-$900 for standard alterations.
Custom alterations and custom changes may be an additional cost. Most of
our past brides budget $650-$900. Garments that are significantly smaller
or bigger than your body size (2 + dress sizes) These jobs are more complex and
additional hours are required to give the right fit.  Please budget
from $1200+
Please be mindful that you are responsible for marks or stains sustained
by the garment during a fitting including as a result of make up, perfumes,
self-tanning lotions, deodorants, lotions or medications you use. We recommend
that you avoid applying such products to your body prior to attending or during
a fitting.
If you have your gown, bring that with you to your fitting along with your preferred form of payment. To all fittings, bring your shoes, undergarments and any other accessories you may want to wear on your wedding day. 
At your first fitting, you will be pinned in your dress and we will make a note of everything that needs to be done, including any custom changes that you desire. Your entire first fitting normally lasts about 30 minutes. After the fitting, all of the alterations on your invoice and pricing will be confirmed, and payment will be taken in full.
If minor adjustments need to be made on the alterations that have
already been paid for, no additional payment will need to be
taken.  However if you happen to have a change of heart and decided
to take the plunge and lower the neckline on your gown, then this is an
additional change and will be charged for. If you have noticed significant
changes to your body, dietary & exercise - shredding for the wedding please
notify our team asap. We will book you in for an additional fitting. For this
service additional charges will apply for the fitting and any additional
alteration works required.  An example of this would be if a bride
changes a full dress size from her first fitting. 
After payment is received, the second fitting will be booked–this is normally set for one to two weeks before your wedding date. If you are an out-of-town bride, we can absolutely make sure to adjust our typical fitting scheduling to fit your needs.
Each fitting is approximately 30 minutes. If only hems are required particularly on bridesmaids dresses we only require you for a minimum of 15 minutes - our bridesmaids often race in during their lunch break mid week. Less stressful and much quieter than a Saturday!!!
At the second fitting, fit will be confirmed first and foremost. Any custom work should be completed at this time as well. Both fit and custom changes can be adjusted from here on out. 
The second fitting normally lasts anywhere between 15-30 minutes, depending on any changes that need to be made. Once finished, you will be able to take your beautiful bridal gown, home with you.

Your gown will be packed into its original bag, and you will be on your way with gown in hand. If you are traveling via airline, if you have any questions or concerns about travel or pressing touch-ups on your gown, feel free to ask! Our staff is happy to help, and no question is too small.
Absolutely! Our team will be happy to chat with you about any custom changes you may want, including adding or removing sleeves, changing necklines, lowering back, adding additional detail, such as beadwork. We have beautiful laces too to choose from if you are wanting for example a little detailed finished on cuffs, shoulder lines etc.
Yes! We would be happy to give you more information for scheduling your Mother-of-the-Bride / Mother-of-the-Groom / special occasion alterations.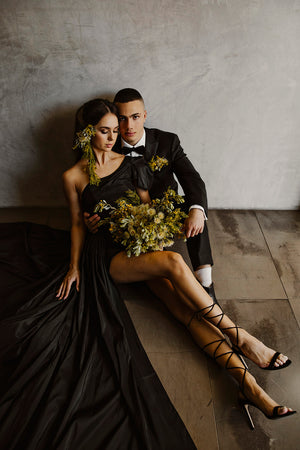 Don't miss out
Enjoy 10% Off Student Discount on School Ball Alterations